I love the use of flag bunting at parties...
So when I started to see it used as decorations
But wait...
It gets better...
Nikki from Lovely Scribbles (who is related to Jenna from Eat, Drink, Pretty both of which have cohosted gorgeous parties in the past few weeks) gives us the 411 on how to make them...
Yippee!
Supplies

1. Color paper
2. Paper cutter and/or scissors
3. Dye cut paper punch in a pattern of your choice
4. 2 wooden skewer sticks
5. White thread
6. Needle
7. Hot glue gun
8. Ribbon
Step 1: Punch each sheet of color paper with the dye cut paper punch and cut out mini flags with the pattern as the bottom of the flag.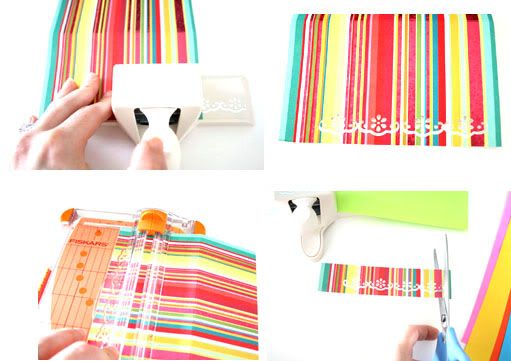 Step 2: Double thread the needle with white string to make the stitch more prominent.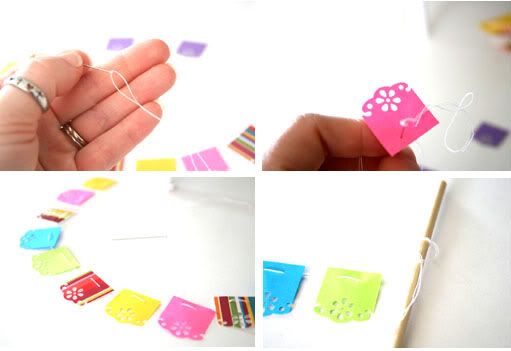 Step 3: Once you have the flags strung and placed however far apart you would like them, tie each end of the string around a skewer stick.

Step 4: Take the ribbon and tie into two small bows.

Step 5: With your glue gun, glue each bow on top of where you tied the thread. This will hold the thread on the stick as well as hide the knot.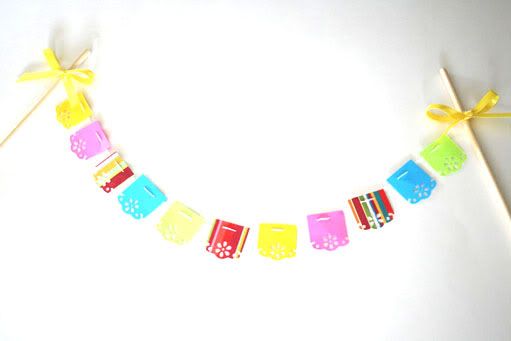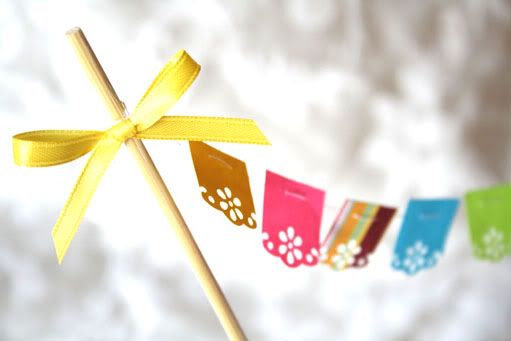 {Top 2 images via Kiki LaRu found via Hip Hip Hooray}
All other images via Lovely Scribbles